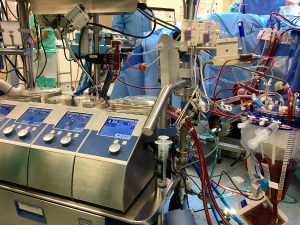 Cardiothoracic Anaesthesia appeals to anaesthetists who enjoy 'big' cases and anaesthetising high risk patients for life-changing surgery. It features lines, gadgets, rapidly fluctuating physiology and a dynamic theatre environment
Whether you're interested in Cardiothoracic Anaesthesia or not this speciality has it all and is one that will provide rich educational experiences that will stay with you for your career.
There are a number of cardiothoracic sub-specialties, all of which are available to trainees across the 3 cardiac centres (Barts Heart Centre, Harefield Hospital and the Royal Brompton) within the school . These include:
General cardiac
Thoracics
Complex aorta-vascular
Adult Congenital (Grown Up Congenital Heart disease, "GUCH")
Paediatric Cardiac
Heart and lung transplantation
Ventricular Assist Devices and Total Artificial Heart
VA and VV ECMO
Interventional Cardiology (adult and paediatric)
Electrophysiology
Structural cardiology
Primary coronary intervention, and
Cardiothoracic Intensive Care
Cardiothoracic Anaesthesia training will take you longer but we think it will be well worth it. By the time they are appointed as a Consultant a trainee will have completed a minimum of two years subspecialty Cardiothoracic Anaesthesia training (advanced Cardiothoracic Anaesthesia year plus one or two Fellowship years) along with exposure to the full complement of cardiac sub-specialties.
Accreditation in transoesophageal echocardiography (TOE) is an essential component usually acquired over two years. All three cardiac centres provide excellent departmental teaching programmes and TOE exposure. There are a multitude of exciting and relevant courses on offer too that may be of interest to trainees with or without a specialist CTA interest. Examples include:
Introduction to TOE
One Lung Anaesthesia
Cardiac Advanced Life Support (CALS)
Lung ultrasound
ECMO
Cath Lab simulation
FICE
Additional information about Cardiothoracic Anaesthesia training, a Fellowship database and relevant FRCA exam resources may be found on the Association for Cardiothoracic Anaesthesia and Critical Care (ACTACC) website 
Further information
Further information can be obtained from the Specialty Leads.