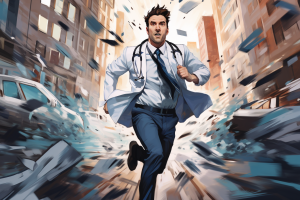 Anaesthetists in London used to rotate at the beginning of September. It was a good time to rotate. Because it was when the Consultants were taking annual leave. They would come back in September, refreshed, and ready to manage the changeover. But in 2007, Modernising Medical Careers moved the changeover date  to August.
Five years ago a paper in the BMJ revealed that at one particular hospital (outside London) the total days of annual leave taken by consultant anaesthetists in August was 196.7 days, nearly twice as many as in June (102.2 days). Figures were similar in other specialties. And the reason for this is obvious.
Consultants with school-age children, who are a significant proportion of the workforce, want and deserve to take their annual leave during school holidays. The NHS should be working to facilitate that as part of being a family-friendly employer. Instead, it places the burden of managing the changeover – running and organising induction days, working with novice CT1's and all the other chaos of changeover – slap bang at the worst possible time
The staff working in HR probably want to spend times with their families too.
No doubt we'll hear a cry of "Oh but its far too difficult to make the change". Nonsense – they did it in 2007 and they can do it again now. It might even improve patient care.