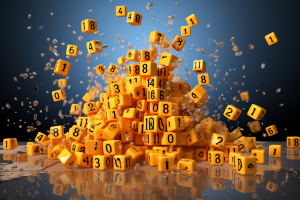 In Autumn 2021 applicants for Anaesthetic training posts were hit by a series of errors. These were so serious that a Significant Incident Review was convened to find out what went wrong. Now, after a Freedom of Information request to get hold of the information, we can see exactly what happened and why. You can read the full report here.
The ranking and issuing of offers to applicants is carried out by ANRO, the Anaesthetic National Recruitment Office. The interview scores are stored in an Excel spreadsheet. Each of the seven recruitment regions creates a separate spreadsheet, but these have no standardised template, naming convention or structure. After being manually amended, all of the various scores are entered into a Master spreadsheet. This is carried out row-by-row and takes several days,  likely to be subject to interruptions.
The first mistake that was made, in the ST3 recruitment, was that the data from the 'Ranking' column from one spreadsheet was entered into the 'Interview Score' column on the Master. The 24 applicants from Wales were thus instantly deemed unappointable, since none of them appeared to have an interview score more than 24.  The errors were initially hard to trace. Some members of the team were using the VLOOKUP() Excel function, others were not. The quality assurance processes that were in place did not identify the mistake,  so it went unnoticed until a candidate submitted a complaint.
Once the mistake in the ST3 scores had been recognised, and the reasons identified, it became necessary to issue offers to 10 candidates that had previously been told their applications were unsuccessful. There were also 10 offers that should not have been made, together with 15 further candidates whose preferencing was affected.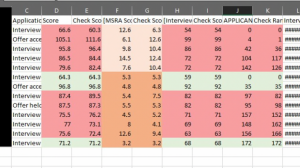 However it was decided that under the circumstances the offers that should have been rescinded would, in fact, be honoured. ANRO proceeded to notify the candidates. But instead of sending this information to 10 candidates it went to 26. The report then reveals a series of meetings involving ANRO, the MDRS team, the National Recruitment Lead, HEE National Programme Lead, together with Hicom (software provider) to manage this 'system issue'. It did appear that the messaging functionality in the software was at fault since a message sent to a group of candidates in a different specialty was also sent to more individuals than had been intended.
Meanwhile at CT1 level there were errors transcribing the MSRA scores. Candidates that sit the MSRA have their scores passed to the Work Psychology Group who 'scale' them and return them to ANRO where they are entered into a spreadsheet. Manual transcribing errors, erroneous cut-and-paste and, again, misunderstanding of the VLOOKUP() function were cited as reasons for error. In addition, the scores for candidates who had sat the MSRA on previous occasions were not being scaled correctly and the ANRO staff did not properly understand how this should work.
The Royal College of Anaesthetists and the Association of Anaesthetists were quick to issue a strongly-worded statement expressing their support for individual anaesthetists, acknowledging the great distress and upset that this had caused to doctors who had already experienced so much recent disruption and uncertainty, clarifying that they themselves were not directly involved in the process, and calling for an enquiry into what went wrong. But whereas the College had transparently acknowledged its own recent problems with examinations, HEE initially refused to release the results of their internal enquiry. It gives the impression that they only pay lip-service to being open and honest about making mistakes, especially mistakes of their own.
It is tempting to blame these mistakes on a hapless Band 4 working from home during lockdown in the middle of half term. But that would be missing the point. We have had centralised recruitment in Anaesthesia for over 15 years, yet we are still relying on incompatible IT systems, badly-structured and haphazard Excel spreadsheets with manual copying-and-pasting from one sheet to another. This smacks of bad senior management and a basic misunderstanding of the principles of data handling.
NHSEngland has made the predictable claim that "lessons have been learned" but why has it taken so long to develop a unified and error-free process for what, in reality, is not a difficult process.
And why, if they've really fixed it all, was it necessary for them to issue yet another apology this year for inviting candidates for interview when they were on the reserve list?
Maybe it is time to question the whole need for centralised recruitment. When recruitment for trainees was carried out at a local level the interviews had a meaning; consultants were engaged with the process. Candidates were asked about their clinical interests and future plans, and they felt that they were having a conversation with a future colleague that would listen to what they said . Instead, the interviews have become a depersonalised charade with the interviewer simply ticking boxes every time they hear the right buzzwords. And locally-run recruitment doesn't need 8 different spreadsheets.