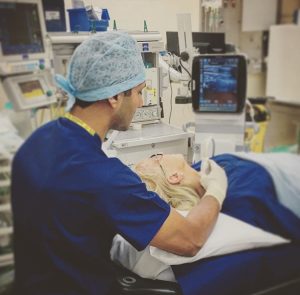 "It is divine to alleviate pain"
The ability to be able to treat acute pain effectively, prevent it becoming a chronic issue, and managing it when it does is an immensely rewarding skill. Pain medicine encompasses all of these areas and involves working with a wider multidisciplinary team to achieve its goals.
All trainees will get some experience of pain medicine at both Core and Intermediate level.
We also have an an optional module at Higher level, delivered at UCH.
A one-year Pain Research Fellowship (in programme) is available at UCH. Trainees in this post can combine their higher general training in anaesthesia with some protected time each week to pursue further pain training, quality improvement initiatives and participate in pain research projects. Dr Brigitte Brandner is the lead for this post.
Trainees planning to practice pain medicine as a consultant are advised to contact Dr Ian Goodall, the TPD for pain medicine or Dr Victor Mendis, the Regional Advisor for pain medicine. These trainees will need to complete an advanced year in pain medicine – Advanced Pain training. The recruitment for advanced pain training is held twice per year, for February and August start dates.