Core training takes two years. Our trainees spend their first year one of our well-known teaching hospitals – The Royal Free Hospital or University College London Hospital. Our initial placements are for a full year.  The second year is spent in one of the district general hospitals on the rotation – Barnet/Chase Farm, The Whittington or Barking, Havering, and Redbridge Hospital Trust.
Rotations are determined and fixed at the time of appointment which allows trainees to make plans in their personal lives such as buying or renting accommodation.
CT1
Entry into anaesthesia is exciting but has a steep learning curve. A teaching hospital environment means you can be completely supernumerary in your first year when required. Each trainee is allocated an educational supervisor, who you will meet with throughout your placement, to explore your educational needs and provide pastoral support. Bespoke teaching is delivered directly by consultants on a daily basis in theatre and on the wards.
We run an extremely popular and well received Introduction to Anaesthesia day-release course which starts in the first week and continues weekly for the first month. It includes a high-fidelity simulator session. We have negotiated funding from HEE for this on your behalf, so there are several fewer forms to fill in!
We would expect Core Trainees to obtain their Initial Assessment of Competencies (IAC) within the first 3-6 months. Following that they are encouraged to further discover and develop their anaesthetic skills under direct or semi-direct consultant supervision and tuition.
Formal school teaching takes place on a fortnightly basis. Trainees are taken out of clinical duties and provided with teaching centred on the Primary FRCA, Clinical Anaesthesia and even personal wellbeing. These sessions are delivered by experts in their field.
To prepare for the Primary exam we offer formal OSCE and viva courses. These are run by a mixture of experienced consultants – some of whom are examiners –  and senior trainees with recent experience of sitting the exam.
Further teaching is offered in each hospital department and includes journal clubs, SIM sessions, regional or 'block' teaching.
On completion of the CT1 year, we would expect trainees to be able to independently anaesthetise ASA1 an2 patients in preparation for CT2
CT2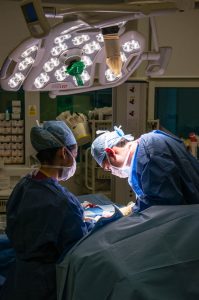 The second year of core training is delivered in one of three district general hospitals. Essential modules of ITU and obstetrics are covered in this year as trainees work to achieve their competencies to sign off the Basic Level Training Certificate.
There is a greater focus on working with distant supervision, which provides the opportunity to 'fly solo' to a greater extent. Trainees benefit from the contrasting experience of working in a different environment for this year.
The same varied and extensive teaching opportunities are provided at CT2 level as CT1 – see above. The Primary exam tends to become somewhat the challenge in this year. We pride ourselves in supporting our trainees through this stressful time.
The main focus in Core Training is conquering the primary FRCA exam, developing the skills to independently anaesthetise ASA 1 & 2 patients, enhance the 'back page' in preparation for ST3 applications and, most importantly, to enjoy yourselves.