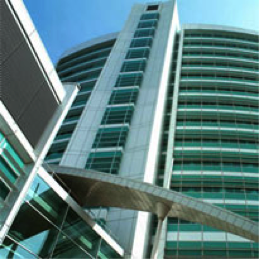 University College Hospital NHS Foundation Trust (UCLH) was officially opened in October 2005 in a new building with state-of-the-art facilities using cutting edge technology. We currently have 4 different sites:
UCLH main Hospital
UCLH at Westmoreland Street
MacMillan Cancer Centre
Elizabeth Garret Anderson (EGA)
Located in Central London, we are at the heart of London Cancer, the integrated cancer system serving North, East and Central London and West Essex. We host one of the biggest Head and Neck units in the country, we are the Centre for Upper GI cancer treatment for North East London, and we provide care for Thoracic, Breast, Gynaecological, Bladder and Prostate Cancer among others. Our pain department is a leader in the country and the service has experienced a substantial expansion during the past 5 years.
We offer exceptional regional anaesthesia experience, with the only 'Block Room' in a London Hospital and comprehensive clinical and academic activity. Our maternity wing hosts up to 7000 deliveries per year including a large proportion of medically complex women and babies.
We offer sever Clinical and research fellowships including: Airways, Perioperative, Regional, Education, and Pain.
Education and teaching are at the heart of our department and we provide a wide range of clinical non-clinical education opportunities every week.
We deliver an average of 400 sessions of anaesthesia per week distributed between 19 main theatres, 5 day surgery theatres, 2 Obstetric and several out of theatres locations We pride ourselves to be a warm and cohesive department
Building projects to come: Phase 5: Eastman Dental, Max Fax, ENT outpatient theatres
Phase 4: Proton Beam, Haematology Oncology and ICU
Hospital type
Teaching Hospital
Address
235 Euston Road London
NW1 2BU
Phone
0203 447 3343 (Anaesthetics) 0203 447 3356 (Theatres)
Modules and
Training opportunities 

We provide the following modules of training
Airway management
Critical incidents
Day surgery
General, urological and gynaecological surgery
ENT, maxillo-facial and dental surgery
Management of respiratory and cardiac arrest
Non-theatre
Orthopaedic surgery
Regional
Sedation
Transfer medicine
Trauma and stabilisation
Intensive care medicine
Obstetrics
Paediatric
Pain medicine
Periop medicine

Clinical and Research Fellowships
Airway
Obstetric
Regional (Block room)
Perioperative medicine
Bariatric
Educational
Pain
We have also established a Perioperative MSc which will be held between UCLH and UCLH at Westmoreland St

Educational activities

Weekly regional journal club
Weekly ground round
Weekly research meeting
Weekly departmental meeting
Weekly ICU journal club
Monthly POM all morning teaching lead by Prof Moonesinghe
Clinical Governance- Audit 8 times year

The learning Hospital/Simulation centre http://www.ucheducationcentre.org/
SOURCE meeting
Monthly Obstetric forum
Fibrotic intubation course
MOET
Viva course for final

Research activities

Research and Academic opportunities:
Prof Monty Mythen
Dr David Brealy
Dr Roman Cregg
Dr Damon Kamming
Prof Ramani Mooneshinge
Prof David Walker

Audit and Clinical Governance:
Dr Jignasa Modha
Dr Kathryn Jenkins

Rota

Trainees currently work a full shift pattern rota. A similar shift system operates during the 3 month ITU secondment.
We run a 1:8 rota, 3 resident registrars each LD/ night, 1 CT1-2.

AL can be booked on line via Clwrota app, or contacting
Dr Ray Awkwerth
1B (according to rota)
Consultant and permanent staff
Najwan Abu AL-Saad ICU
Ray Ackwerth Paediatric
Prem Arunasalam Chairman
Sohail Bampoe Obstetric, research
Sarah Barnett Paediatric, College Tutor
Rory Bell Obstetric
Elisa Bertoja Thoracic Upper GI College Tutor
Benjamin Blaise Paediatric, Research
Irene Bouras Airway
Brigitta Brandner Pain Research
Dave Brealey ICU
John Bugo Obstetric Thoracic
Ed Burdett Airway and orthopaedic
Alice Carter ICU FY1-2 TPD
Miriam Chapman Pre-assessment
Maria Chazapis Periopeative, Research
Sarah Chieveley-Williams Regional Education
Sarah Ciechanowicz Obstetric research
Samuel Clarke ITU
Simon Clarke Airway
Steve Cone EPIC Lead Major surgery
Roman Cregg Pain Research
Olivia Davies Paediatrics
Wynne Davies Obstetric Thoracic
Sam De Silva Obstetric
John Dick Obstetric Lead
Jim Down ICU
Shaima El Nour Obstetric
Daniel Farrar Airway
Alan Fayaz Pain, Research
Kevin Fong Research
Antija Friedwanger Obstetric General
David Gilhooly Perioperative Research
Craig Goldsack Orthopaedic
Carmen Gore Research
Catherine Greville Paediatric
Daniel Heaton Peadiatric
James Holding Clinical Lead
Ruth Hurley Thoracics Major surgery
Georges Iskandar general
Kathryn Jenkins Airways
Damon Kamming Regional
Kiran Kaur Regional
Henna Ketani General
Maria Koutra Major Regional
Dimitri Kruglov Pain
Gautam Kumar Perioperative Medicine
Michelle Le Cheminant Paediatric
Niall MacCallum ICU
Emilie Hoogenboom Martinoni Airway Thoracic Innovation
Anita McCarron Major
Kirstie McPherson Airway
Viki Mitchell Airway
Jignasa Modha Airway QI
Ali Mofeez Pain Lead
Wynt Mon Bariatric Obstetric Thoracic
Ramani Mooneshinge ICU research
Monty Mythen ICU
Su Cheen Ng Regional Research
Benjamin Parsons Obstetric
Nisa Patel Obstetric
Sanjiv Patel Regional Research
Sara Polhill ICU Paediatric Lead
Danielle Reddi Pain
Melinda Same Paediatric
Laura Sarmiento General
Ashish Shetty Pain
Jamie Smart Upper GI Pain
Helena Smith General, Media
Rob Stephens Perioperative Medicine
Adi Stewart Obstetric TPD
Pervez Sultan Obstetric
Oliver Sykes General
Melanie Tan General EPIC
Mira Tewari Paediatric Sedation
Rik Thomas ICU EPIC
Viki Tidman Pain
Raman Verma Airway
David Walker ICU Perioperative Medicine
Liang Wee Obstetric
Sim West Regional
Abi Whiteman Perioperative Research
Cat Williams General
Alessandro Zeffiri General Acupuncture
Further information and contacts
Abigail Whiteman
College Tutor
Responsible for educational supervision and training.
Sarah Barnett
College Tutor
Responsible for educational supervision and training.
Adi Stewart
School Executive
Senior member of the School.
Training Programme Director