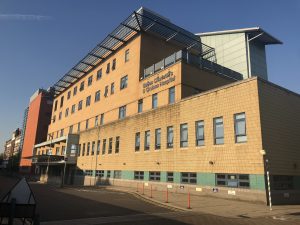 Queen Charlotte's & Chelsea Hospital is world-renowned for its maternity and women's and children's services.
The hospital is a tertiary referral maternity unit with a nationally renowned centre for foetal care and has the largest neonatal intensive care unit in the country. It has a labour ward with two fully equipped operating theatres adjacent to high-dependency care facilities. It includes a delivery suite, a birthing centre, ante- and postnatal and gynaecology wards. Anaesthetic trainees have the opportunity to be involved in a wide variety of complex elective and emergency obstetric cases, as well as to attend high risk obstetric anaesthetic and obstetric medicine clinics and ward rounds.
Queen Charlotte's & Chelsea Hospital is also home to the West London Gynaecological Cancer Centre and during their placement, trainees gain experience in anaesthesia for major gynae-oncology surgery including multivisceral resection procedures for advanced ovarian cancer. They also gain experience in sedation for IVF procedures.
Number acute beds: 127 inpatient beds (72 maternity beds and 55 neonatal intensive care cots)
Number operating theatres: 2 obstetric theatres on labour ward at QCCH, 8 operating theatres at Hammersmith Hospital, 1 operating theatre in IVF
Number ICU/HDU beds: 2 HDU beds on labour ward
Number of deliveries: Around 6000 per annum
Surgical specialties: Obstetrics, gynaecology
Hospital type
Specialist Hospital
Address
Du Cane Rd, White City
W12 0HS
Modules and
Training opportunities 

Higher obstetrics
Advanced obstetrics
Higher sedation
Higher general, urological and gynaecological surgery

Educational activities

There are numerous teaching opportunities at QCCH. These include:

High risk obstetric anaesthetic clinic: run by Dr Sodhi every Thursday afternoon. Trainees are allocated evenly according to the rota.

Anaesthetic journal club/case report meeting: every Wednesday morning
Obstetric medical meeting: every Tuesday morning
Obstetric medicine ward rounds: daily
Obstetric medicine clinics: these happen daily and include cardiac, haematology, renal, liver and endocrine clinics
CTG teaching meeting: every Tuesday
Management meetings: these include clinical risk management, quality and safety and guidelines meetings

A Postgraduate Forum involving the whole of the Women and Children's Directorate occurs monthly.

Trainees undertaking advanced obstetrics training also have the opportunity to shadow obstetricians, attend neonatal ward rounds and observe obstetric ultrasound and Doppler scanning of fetal well-being. Trainees are also are encouraged to gain some administrative/management experience through attendance at clinical risk management meetings, rota organisation and teaching junior anaesthetic trainees and labour ward staff.

Research activities

There is an active audit and quality improvement programme at QCCH and all trainees are encouraged to complete a QI or audit project whilst at QCCH, and to present it at the Trust's clinical governance meeting.

Trainees are encouraged to attend national meetings/courses relevant to obstetric anaesthesia. These include the OAA Annual Meeting, the OAA Three Day Course in Obstetric Anaesthesia, and launch meetings for the UK Confidential Enquiries into Maternal Death and Morbidity (MBRRACE-UK).

Every effort is made to grant study leave and priority is given to courses and meetings relevant to obstetric anaesthesia.

Rota

There are 8 Specialist Trainees, 6 of whom are ST5/6/7, with 2 additional clinical fellows

4 trainees from Imperial School of Anaesthesia
1 trainee from Central London School of Anaesthesia
1 trainee from Barts & The London School of Anaesthesia
2 Fellows

The rota is arranged as a full shift 1:8 with prospective cover. The rota is EWTD compliant.

How many lines of rota: One rota line for QCCH
There are a further three rota lines at Hammersmith Hospital (CT2, ST3/4 and ST5/6/7)

Banding: 1A
Consultant and permanent staff
Dr Ruth Bedson – Lead Clinician
Dr Felicity Plaat – President of OAA / Research / Risk management
Dr Susan Kirby – Audit lead / Fellowship lead
Dr Gary Stocks – Treasurer of OAA / Research
Dr Mark Esler – Rota lead for Hammersmith Hospital
Dr Vinnie Sodhi – High risk obstetrics / Clinical governance lead / OAA Committee member
Dr Lorraine Hamlyn – Rota lead for Queen Charlotte's Hospital
Dr Jeremy Campbell – RCoA College Tutor
Further information and contacts
Jeremy Campbell
College Tutor
Responsible for educational supervision and training.