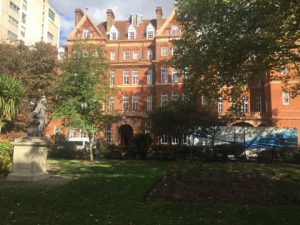 The National Hospital for Neurology and Neurosurgery receives patients from a group of teaching and district general hospitals and provides neurological and neurosurgical services on a local, regional, national and international basis. The department provides anaesthesia for the largest number of neurological cases in the UK, which includes major vascular procedures, major spinal surgery, pituitary surgery, surgery for craniocervical disorders, stereotactic surgery, surgery for movement disorders, posterior fossa surgery and surgery for temporal lobe epilepsy. We also care for a large number of patients who have sustained intracranial haemorrhage especially subarachnoid haemorrhage.
There is also a busy Neuroradiology department with interventional radiology, MRI under general anaesthesia and a busy interventional operating suite. The department is also involved in the new Thrombectomy service with the Stroke Team.
The hospital has one of the largest dedicated neurological critical care facilities in the UK. There are two intensive care units, one medical and one surgical. The Neurosurgical Intensive Care Unit (SITU) has nine beds with a co-located High Dependency Unit with six beds and cares for acute admissions as well as those who have had major neurosurgery. There are facilities for state-of-the-art monitoring of neurosurgical patients with many on-going clinical research projects. The Unit is looked after by six consultants in neurocritical care, with input from the appropriate neurosurgical teams. There are consultant sessions to cover each weekday. There is a consultant led outreach team, supported by the critical care team.
The Batten Harris Unit is a six-bedded neuromedical ITU which admits approximately 350 patients per year with a wide variety of neuromedical disorders. These include patients with myasthenia gravis, Guillain-Barré syndrome, status epilepticus and encephalitis. In addition, the unit incorporates a sleep study unit which studies about 140 patients per year. Some of these are patients receiving domiciliary ventilation. The Unit is run jointly by Consultant Neuroanaesthetist Drs Radcliffe and Consultant Neurologists Professor Kullmann and Dr Howard. Daily rounds involve neurologists and anaesthetists. The unit has a designated neurology ST 1-2 and SpR who conduct the normal day to day business. The on call Anaesthetic SpR/ST3-7 is responsible for the ITU aspects of the patients' care as well as contributing to the overall care.
The Anaesthetic Department has a responsibility to seven dedicated Neurosurgical Theatres, including the Interventional MRI theatre which was the first of its kind in the UK, an active Interventional Neuroradiology Department, a regular MRI list involving sedation and general anaesthesia, as well as both acute and chronic pain services. The department provides a 24-hour emergency service as well as routine scheduled theatre sessions. We have recently started an acute thrombectomy service to our local catchment area. There is an active consultant led Acute Pain Service and Tracheostomy Service.
Hospital type
Specialist Hospital
Address
Queen Square London
WC1N 3BG
Phone
020 3448 3344
Modules and
Training opportunities 

Neuroanaesthesia Intermediate, Higher and Advanced
Remote site anaesthesia
Sedation

Advanced airway skills including fibreoptic intubation can be developed on spinal lists

Educational activities

Wednesdays weekly trainee teaching delivered by consultants
Thursday (midday) weekly journal club delivered by trainees
6 weekly Quality & Safety Governance and monthly M&M meetings

All ST 5-7 trainees released for school teaching days (unless on-call)
Opportunity to get involved with QIP and Simulator/ skills in Education centre at 250 Euston Rd

Research activities

Dr Luoma Leads a monthly departmental research group- all ST trainees and fellows welcome.

The research interests of the department include clinical neuroanaesthesia, airway management, acute pain, neurological intensive care, neurosurgical ITU brain monitoring.

Rota

Trainees come from all Thames rotations
(Central: 5; Imperial: 4; Barts/Lond: 2; SESA:1 Advanced training)
Total of 12 ST trainees in Neuroanaesthesia) plus 6 Clinical fellows in Neuroanaesthsia
Total of17 Higher trainees on 1:15 rota providing 2 trainees on call at all times
1 trainee covering ITU (may be non-anaesthetics)

Total of 7 Doctors on the SITU rota ( Including 2 Central ST trainees)
Consultant and permanent staff
Dr Ib Adedugbe Neuroanaesthesia
Dr Yogi Amin Neuroanaesthesia & MITU
Dr Smita Bapat Neuroanaesthesia Rota Cooordinator
Dr Gordon Bird RCoA FFICOM Tutor & Education Lead, ITU
Dr Ian Appleby Neuroanaesthesia
Dr Ellie Carter Audit lead
Dr Lila Dinner Neuroanaesthesia
Dr Katherine Hunt Clinical Director for Theatres and Critical Care
Dr Rob John College Tutor
Dr Javid Khan Departmental lead, ITU
Dr Michelle Leemans Lead for Preadmission
Dr Val Luoma College Tutor
Dr John Orr Associate Clinical Director- Theatres, Anaesthesia &Critical care
Dr Darreul Sewell Neuroanaesthesia
Dr Malcolm Smith Neuroanaesthesia, ITU
Dr Ugan Reddy Director for Surgical ITU
Dr Jeremy Radcliffe Director for Medical ITU
Dr Chris Taylor Clinical Lead for Neuroanaesthesia
Dr Sally Wilson Medical Examiner
Further information and contacts
Robert John
College Tutor
Responsible for educational supervision and training.
Val Luoma
College Tutor
Responsible for educational supervision and training.
Mei Yin Chan
Rota/Leave Coordinator
Contact for Rota and Annual Leave enquiries