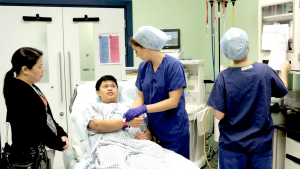 Great Ormond Street Hospital for Children is a postgraduate teaching hospital with 350 beds, and is a national centre for children with a wide spectrum of disease. The full ranges of medical, surgical and diagnostic specialities are available.
Trainees in Paediatric Anaesthesia are integral members of the department of anaesthesia and work supervised (at various levels) and independently as appropriate to their skills.
It is the largest paediatric facility in the UK and has a unique surgical caseload including heart and lung transplantation, epilepsy surgery and cerebral vein embolization for vein of Galen malformation
Working at Great Ormond Street Hospital is an incredible opportunity to gain higher and advanced paediatric anaesthetic training in a complex group of patients. Posts are available for 6 and 12 months within programme, or fellowship (12 month) posts which are out of programme and open application. The 12-month posts include a 3 month rotation to either PICU or CICU. Trainees are selected through a formal interview process conducted jointly between the Schools and GOSH.
Within anaesthetic training, registrars rotate through subspecialties such as cardiac, plastics, ENT, and general surgery. The registrars are from all schools within London, as well as national and international trainees. All trainees are post FRCA, and as such the focus is on education within the post, and expanding extra-curricular interests in audit, research and academia.
Initially trainees are allocated to lists with a consultant, but as you gain competence and confidence there are lots of opportunities for independent practice. Towards the end of a rotation you should expect to be working solo for around 50% of lists, with support always available if needed. As a result, you will become confident in anaesthetising for a wide range of children with complex pathologies; a useful skill regardless of your career aims. All the consultants are supportive and approachable, and happy to teach as well as let trainees 'run the list'.
There is a strong focus on teaching, and all trainees are expected to attend teaching sessions, and present at least once at educational meetings. Overall you can get a lot out of this job if you are willing to work hard and take opportunities.
Number of Operating Theatres 15 Theatres
21,500 Anaesthetics delivered per year
Number of ICU Inpatient beds /HDU Beds 36
PICU 13 / NICU 10 / CICU 20
Surgical Specialities General, Cardiothoracics, Neurosurgery, Urology, Orthopaedics, Spinal, Plastics, ENT, Craniofacial, Ophthalmology, Interventional Radiology, Dental
Hospital type
Specialist Hospital
Address
Great Ormond Street, London
WC1N 3JH
Modules and
Training opportunities 

ENT / Airway / MaxFax/Cardiothoracic/General Surgery/Plastics / Cleft, Neurosurgery / Craniofacial/Interventional Radiology/Renal/Urology/ICU.

18 month Cardiac Fellowship (6 month CICU / 12 months cardiac anaesthesia)
12 month General Paediatric Anaesthesia
Education / Simulation Fellowship
Paediatric Pain Fellowship

Educational activities

Protected anaesthesia teaching takes place during a weekly breakfast meeting. The programme includes presentations by trainees, morbidity meetings, department audit, journal club and presentations by guest lecturers.

There is a half-day programme of tutorials for anaesthesia trainees once a month and weekly cardiac teaching. The PGME department runs many courses which are free to staff.
Research club every 2-3 months
Annual trainee prize evening

Research activities

There is an active research programme in the department in which trainees are encouraged to participate. All trainees are expected to complete a QI or Audit project whilst at GOSH.

Rota

26 – 30 Trainees depending on LTFT and Military placements.

Two trainees contributing to out of hours work at any one time (approx 1:11 with prospective cover). At any one time four trainees are on a separate ICU rota. The post is New Deal and EWTD compliant, and is currently a 48 hour per week rota (Band 1B). Full shifts are worked in anaesthesia.
Consultant and permanent staff
Nargis Ahmad
Mike Broadhead
Linda Chigaru
Phil Cunnington
David DeBeer
Nadine Dobby College Tutor
Philippa Evans
Elena Fernandez College Tutor
Hilary Glaisyer
Marina George
Louise Harding
Lucy Hepburn Cardiac Lead
Jane Herod
Richard Howard
Helen Hume-Smith
Elizabeth Jackson Divisional Lead
Ian James
Akane Iguchi
Tim Liversedge
Angus McEwan
Su Mallory
Richard Martin
Reema Nandi Clinical Director
Jamuna Navaratnarajah
Kar-Binh Ong
Steve Scuplak
Jonathan Smith
Emma Stockton
Grant Stuart
Mike Sury
Mark Thomas
Isabeau Walker
Suellen Walker Senior Lecturer
Hugo Wellesley
Glyn Williams
Sally Wilmshurst
Ellen Rawlinson
James Ip
Joy Dawes
Marc Cohen
Michelle White
Pratheeban Nambyiah
Pam Cupples
Academic Dept
Chris O'Callaghan Head of the Academic Unit, Paediatric Respiratory Physiology.
Suellen Walker Paediatric Pain
Mark Peters Paediatric Critical Care
Mike Sury Paediatric Anaesthesia